Posted by Shamir Lee on 07/10 at 04:58 PM
I've been going through a bit of a 90s pop for the past few days. Maybe it's the hot summer air. I didn't even really listen to the music during that time, but I still get nostalgic when I hear it. I used to say the 90s was the worst time for pop music…What was I thinking? The era had some bad hits, just like any other decade. But once I compare it to the (boring) pop music of the early/mid 2000s, I don't know how I could ever make such a declaration. Although I'm not that excited about it, the 90s are making somewhat of a comeback: Boy bands like, One Direction, slow 90s "jams," like Ciara's "Body Party," not to mention some of the fashion trends. I even saw some overalls at Walmart the other day!
From the New Jack Swing sound of the early 90s, to the bubblegum/dance pop at the end of the decade, the era has a lot of music to choose from. There were many changes going on. The future was drawing nearer with the new millenium right around the corner. Technology was starting to become more personal, and this was reflected in the music. Music videos featured shiny rooms and space-age fashion. Techno was becoming extremely popular, especially in Europe. This seeped into the new millenium for about a year or so, until rap and R&B kind of took over the pop charts in the US.
I have quite a few favorite pop songs from this time, but here's eight that I've been listening to for the past few days. Some you may know, others may be foreign to you. But I'm pretty sure they'll all give you that nineties nostalgia. They're really pop-y so you might cringe (but secretly you know you like it).
1. Step by Step (1990) - New Kids on the Block
I first heard this song about five years ago when I was watching America's Best Dance Crew. One of the crews created a mix and the chorus was used in the dance. It incorporates some New Jack Swing and also has an 80s sound, signifying the transition from one decade to another. Some would argue that they were the original boy band (but let's not forget to give credit to the groups of Motown, specifically The Jackson 5, and even groups like New Edition from the 80s, the true original boybands). Without New Kids on the Block, we probably wouldn't have One Direction. But wait, wouldn't that be a good thing?
2. Be My Lover (1995) - La Bouche
I feel like I was born knowing this song but never knowing the name or the artist. After hearing it at work constantly, I finally decided to look up the lyrics to figure out who it was. This is the only song I know by the German Eurodance duo, but I'm fine with that. The techno sound was really popular in Europe and was starting to take over the world on the dance scene during this time.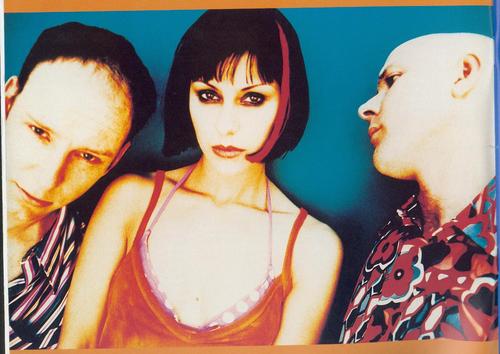 3. Holly (1996) - Republica
I used to strongly dislike "Ready to Go," Republica's most well-known hit. But for some reason, about a year ago, I started to like it. Then, I listened to a few of their other songs, "Holly" being one of them, and it quickly became my favorite song by the band. Their cyberpunk style, specifically of the lead singer Saffron, really attracted me to this band and embodies the fashion the mid-90s. Disbanding in 2001, they have recently reunited, releasing an EP entitled Christiana Obey, but I like to stick to their self-titled album.
4. 6 Underground (1996) - Sneaker Pimps
I somehow stumbled upon this British band a few years ago. I think it might've even been during the summer. I don't know much about them, nor do I care to. I just like this song. Their image in this video is typical of 90s music videos. It reminds me of Jet Set Radio Future, one of my favorite games.
5. I Want You Back (1996) - 'N Sync
Surprisingly, I just discovered this bubblegum-pop masterpiece a few months ago. The only song I knew by the group was "Bye Bye Bye," and now this one has been added to my 'N Sync library. I like this even more than "Bye Bye Bye," actually. 'N Sync will always be synonymous with the 90s, the fashion, the kick and bass, the blonde streaks. It's weird that Justin Timberlake used to be a part of this group…
6. Crush (1998) - Jennifer Paige


Jennifer Paige will always be remembered as a one-hit 90s wonder. But I think she actually had potential. She had the girl-next-door look of other 90s girls like Christina Aguilera and Britney Spears, just not good marketing. Her voice in this song is so soothing, and the acoustic guitar in the background makes me think of the sun setting in the horizon on the beach. Corny, I know, but that's how it makes me feel, ok!
7. Candy (1999) - Mandy Moore
I call this the "mall song." Everytime I hear it I would be in a mall, shopping at Charlotte Russe or Delia's or something. I think it's the epitome of 90s bubblegum pop. I could never make out the lyrics, but one day, I heard it during a scene of the dance movie Center Stage, and I discovered it was by Mandy Moore. That didn't change my opinion, and I still listen to this secretly in my room.
8. Wa (1999) - Lee Jung Hyun
Korean pop during the late-90s was amazing, man, especially Lee Jung Hyun's music. It's hard to choose one favorite song by her, but this is the one that introduced me to this singer. I don't know how much of her style was calculated because they tend to do that in South Korean music entertainment. But I like it nonetheless. I don't know what she's saying, but the futuristic techno sound distracts me from the lyrics, anyway.
Author: Shamir Lee
Bio: Shamir Lee is a senior majoring in Advertising. She's a writer for Penn State's CRITIQUE, a student-run business magazine. Additionally, she has created ads and flyers for One Heart, an organization fighting against child sexual abuse. She's interested in looking at cats, doing ballet, exercising, and ending animal cruelty. In her free time, she enjoys watching horror movies, some of her favorites being Satoshi Kon's Perfect Blue and the 2003 remake of The Texas Chainsaw Massacre ("sorry, I just really like the cinematography"). Music is a big part of her life, as she plays piano, a little bit of guitar, and used to play saxophone. Some of her favorite musicians are Jason Becker, BUCK-TICK, Megadeth, Aivi Tran, Missing Persons, Nina Hagen, Prince, and Koji Kondo.