Posted by Brittany Barth on 10/01 at 11:02 AM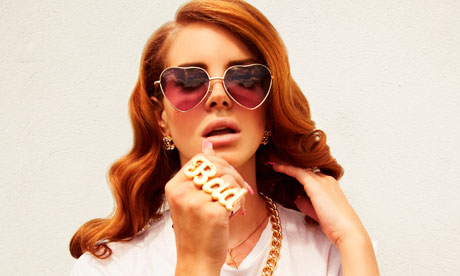 If Florence and the Machine and Jefferson Airplane had a lovechild, it would be Lana Del Rey.
Providing the same quality lyrics and soulful sound that Florence Welch is known for, as well a voice that rivals Grace Slick's, you've never heard a singer do it like Lana Del Rey does it.
Del Rey debuted in 2010 with her album Lana Del Rey A.K.A Lizzy Grant. She quickly established herself as a singer-songwriter who was bringing something different to the music industry. She was presenting a style that no artist had ever brought to record producers before: modern pop combined with a 1960s sound.
One year after she had been signed with 5 Points Records, she would create her sophomore album Born To Die with her new label, Interscope Records. This album showcases the exciting talent that Lana Del Rey is, as well as her unique sound and style of music, to audiences worldwide. Her single, "Video Games," which became "a viral internet hit" on YouTube, left the internet community demanding more of Lana Del Rey. And it's not hard to see why.
Not only does the songstress' lyrics paint the most vivid of pictures in your mind, her voice is enchanting. She manages to sound both sultry and enticing as well as angelic and soft. After she had serenaded millions on the internet, they simply couldn't get enough of that lovely Lana Del Rey. And neither will you.
"Blue Jeans," another one of Born To Die's singles, is equally as excellent as "Video Games" despite their differences in style. While "Blue Jeans" is more cool than romantic, more up-tempo than a ballad, Del Rey still manages to create a single that rivals her first. In fact, every song on the album is just as good as the one that came before it. This is not only a testament to Del Rey's talent, but also an indication as to the types of albums that she can create: ones that are flawless.
Born To Die not only showcases the singer's talent, but also the many the sides that make up Lana Del Rey. If you're looking to be romanticized by her, "Million Dollar Man," "Without You," and "Lucky Ones" are sure to sweep you off your feet. If you're in the mood for a sexier, sultry Lana, skip to tracks like "Lolita" and "Carmen." A word of caution: drooling is a common side effect. Finally, if you want to meet her cool, rebellious side, "Diet Mountain Dew" and "This Is What Makes Us Girls" will introduce you to it.
Not only does Born To Die reveal Lana's multiple personalities, but also a view into her personal life. According to Wikipedia, Del Rey stated in a interview with GQ Magazine that, "I was a big drinker at the time. I would drink every day. I would drink alone. I thought the whole concept was so f**king cool. A great deal of what I wrote on Born To Die is about these wilderness years. When I write about the thing that I've lost I feel like I'm writing about alcohol because that was the first love of my life."
So much of her personal life is exposed on this album, which allows the audience to have an even greater appreciation for who she is an artist. She has allowed herself to be vulnerable, detailed and intimate with her listeners. She has allowed herself to reveal her flaws, her mistakes and her vices. It is this kind of detail, this kind of intimacy, that creates a great album. Born To Die is nothing short of excellent. It has introduced to the world a new voice in Lana Del Rey, and she is here to stay.
http://en.wikipedia.org/wiki/Lana_Del_Rey
Author: Brittany Barth
Bio: My name is Brittany Barth, an English major currently in my senior year at Penn State. I am a lover of food, John Mayer, all things nautical and cats. It has always been a dream of mine to be the lead singer of a (successful) band. After graduation, my goal is to become a Young Adult fiction novelist, but I would love to be an advice columnist prior to that. I am excited about graduation and what the future holds for me!