Posted by Kayla Tooma on 07/08 at 02:26 PM
There tends to be a lack of music in the American mainstream that is not sung in English. Meanwhile, if you listen to, for example NRJ, a French radio station, more than half of the music is English with French and other European songs sprinkled in. Other countries seem to incorporate more diversity into their mainstream than the US. The last non-English song that made it big was the Korean hit "Gangnam Style" by Psy, and let's face it, the only reason that made it big was because it was kind of perceived as a novelty. Shakira is an example of an international singer making it big in the US, however it is only because of her English songs, not her Spanish songs that originally launched her career. There are some really great artists in the global mainstream we are never introduced to simply because they don't sing in English. To list artists from every single region would turn this into an extremely exhausted list, so I decided to focus on Europe, the Middle East, and East Asia. Here is a list of some artists from around the world who are worth a listen:
EUROPE
Yelle – France (pop/dance/electronic)
Yelle (pictured) has been getting around in the US. I often hear their songs in some chic clothing stores. They even were asked to open for Katy Perry on one of her recent tours. I found them a few years ago when searching for pop French music to listen to to keep me sharp on my French. Heavily reliant on beats and synthesizers, Yelle has a fresh and fun sound that is quite a lot of fun to dance to. The band's namesake lead singer Yelle (real name Julie Budet) has a clean, pretty voice that works well when juxtaposed with the electronic sound. My personal favorite songs are "Amour Du Sol," "Que Veux-Tu," "Ce Jeu," and "C'est Pas Une Vie."

Superbus – France (rock/power pop)

Another band I stumbled on while on my quest for French tunes to help me retain the six years of French classes is Superbus. They are a veteran French band that has released five albums and twenty one singles since their creation in 1999. Their song "Pop'n'Gum" was featured in the video game Guitar Hero 3. The band has actually released a few songs in English like "Key Hole," while many of of their songs incorporate both French and English. Their songs have quite a range of styles from cabaret-infused songs, to reggae inspired, to an indie sound, and pop elements. The band tends to have a sexy vibe throughout their music created by the music but also by the lead singer's, Jennier Ayache, voice. Some of my favorite songs are "Lola," "Lova Lova," "Nelly," "Key Hole," "Ca Mousse," and their newest single "All Alone."
Hyst – Italy (rap)

Let's be honest—Italian has to be the most gorgeous language in the world (or at least one of). So when I heard Hyst's Italian rap, I was instantly swoon by the lovely rhythm and sound of the Italian language put to rap/hip-hop music. Hyst, or Taiyo Yamanouchi, is a multi-talented musician, actor, and artist. He is featured in numerous Italian films, TV shows (including the Italian version of Doctor Who), and theatre productions (including Shakespeare plays), in addition to having released two music albums. Some songs to check out are "Adesso Scrivo," "Alto," and "Preghiera."

Tiziano Ferro – Italy (pop/rock)

Again, if hearing the Italian language spoken isn't gorgeous enough, putting it to music and listening to it being sung in a deep, sexy voice should do the trick. Tiziano Ferro is an Italian superstar and multi-talented individual who is a singer-song writer, producer, and author. He is known as the "modern face of Italian pop". However, their definition of pop is far different from our highly gimmicky, almost childish pop music. When we think pop, we think over-the-top sexy, catchy tunes, and lyrics are usually not as great as they could be. Image is more important in American pop than other cultures, and Italian pop with Ferro as the face proves that their music comes before image (not to say Ferro is not attractive, quite the opposite in fact). His style ranges from adult contemporary to more beat-driven pop. Some songs to check out are "La Differenza tra Me e Te," "Per Dirti Ciao!," and "Perdono."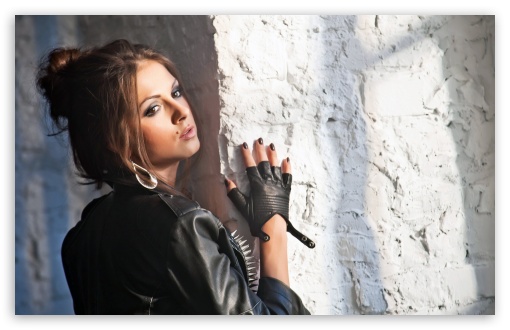 Nyusha – Russia (pop/R&B/dance)

Anna Vladimirovna Shurochkina, or more simply Nyusha (Ню́ша), is a pop artist from Moscow (pictured). Her style is more similar to American pop: electronically driven, vocal modification, and heavy emphasis on image. Her music is quite good, catchy, and her voice is lovely. A lot of them are great for dancing too. Some songs to check out are "Наедине," "Воспоминание," and "Выбирать чудо."

Medusa'Scream – Russia (rock/punk)

Medusa'Scream is a rock band from Stalingrad, Russia. Their style incorporates elements of punk and emo. The band has released four albums since 2005. A lot of their songs are available for free download from their Last.FM website. Some songs to check out are "Хотел Остаться," "Тушь," and "В холодных ладонях."

Pablo Alboran – Spain (flamenco/pop/traditional)
Pablo is a multi-talented Spanish singer, pianist, and guitarist who has been nominated for three Latin Grammy awards. He's released two studio albums and has had eight singles. His musical style is soft, melody-driven, lots of decorative vocal melisma, and traditional Spanish guitar and musical styles. Some of his biggest songs are "Solamente Tú," "Pérdoname," and "Tanto."


MIDDLE EAST

Coming from a Middle Eastern family, my house is always bumping with music from all over the region, although mostly Persian music. Overall, Middle Eastern music is usually one of two extremes—either very traditional, sad, and filled with lots of over-singing, or it is very happy, has terrific dance beats, incorporates the fun elements of Middle Eastern time like 6/8 beats and exotic instruments that can be tons of fun. Below, I've listed some of the latter choice.
Tarkan – Turkey (pop)
Tarkan, aka Turkey's "Prince of Pop," has been called by the Washington Post the Elvis Presley of Turkey. His music is youthful, interesting, and so catchy. Perhaps the most played song in my house, Tarkan's "Şımarık," or simply "Kiss Kiss," is fun, catchy, and has an incredible beat. It incorporates traditional Turkish and Middle Eastern sounds against an awesome beat. Trust me, I don't even know Turkish but this song is so catchy I find myself singing it all the time. Tarkan's voice is also just amazing. When released as a single, the song topped charts all over Europe. Some other songs to check out are "Dudu" and "Kuzu Kuzu." But seriously, listen to "Kiss Kiss."

Black Cats – Iran (pop/boy band)

Another favorite in my household, The Black Cats are an interesting band. They started in the 1960s but the members have changed and been replaced in the 1990s. However, the newest combination of singers have become huge since their 2003 release of the album Popfather. We'll be examining their recent releases, that are basically like the boy band pop of Iran. Since their revival, they have released three studio albums that have done extremely well. Their song "Popfather" essentially announces their return to music while also paying homage to the Persian greats who came before them. My personal favorite of their songs is "Yeki Bood Yeki Nabood," which is extremely Persian and has an amazing beat. It is guaranteed to be stuck in your head for days. Stepping away from their pop/beat heavy songs, they also do many slower, sad songs like "Begoo Mano Kamdari."
Nancy Ajram – Lebanon (pop)

A multi-platnium superstar of Lebanon, Nancy Ajram is only thirty two years old and has already won forty-four awards and titles! She has released seven studio albums and over twenty singles. She is even the face of Coca-Cola in the Middle East, featuring her music on ads throughout the region. Her video to the song "Mashi Haddy" is perhaps the cutest music video I have ever seen. It is filled with so much color, campiness, and fun! Her music is heavily influenced by Arab traditional music but also American and European elements and styles that offers a fresh sound. Some other songs of Nancy Ajram's to check out are "Aah W Noss," "Ya Kather," and "Lawn Oyounak".


EAST ASIA
Super Junior –South Korea (pop/boy band)
Perhaps the most famous K-pop band, Super Junior, a South Korean boy band, is known as the "Kings of the Korean Wave." Interesting fact about them is that at their height, they consisted of thirteen band members! However right now, the band has eight. Since 2005, they have released seven studio albums, including one in Japanese, and have won a total of 164 awards! In 2009, they released a single "Sorry, Sorry" that put them on top on an international scale. Their music has elements of pop, R&B, dance, and rock. If you're a fan of One Direction (my guilty pleasure), N*SYNC, etc. you'll love Super Junior. Some other songs to check out are "Break Down," "No Other," and "Super Girl."

Yin Ts'ang – China (hip-hop)

A hip hop group formed in 2001, they are an extremely influential bunch. The group consists of four men from different countries (China, Canada, and the US). They are often credited with being the people who brought hip-hop to mainland China. Their sound is pretty reminiscent of 1990s American hip-hop and rap. Some of their bigger songs include "Don't Worry" and "Looking Back."
Versailles – Japan (symphonic metal/gothic metal)

Here is something a little different. I've always had a sweet spot for super eccentric, theatrical, symphonic/gotic metal bands, so when I stumbled upon Versailles, I was pretty happy. Symphonic metal is great because you get the heavy elements of metal, but you also get the beauty of an orchestra and actual melodies, rather than just thrashing guitars and unclear vocals that come with other variants of metal. Versailles is a gothic/symphonic metal band from Japan that sports some pretty awesome baroque style costumes. Since 2007, the band has released five studio albums. They have a pretty amazing sound. If you like the music of Nightwish, Kamelot, or Within Temptation, you'll probably love Versailles. Some of their songs to check out include "Masquerade," "Truth," and "Rose."

PENICILLIN – Japan (alternative/hard rock)

Japanese band PENICILLIN has been rocking since 1992. In that time, they have released twenty three studio albums and over thirty singles. The band got their major debut with their single "Blue Moon". They have a pretty clean rock sound, good melodies, and cool guitar riffs. Some other songs to check out are "Romance"and "Hit and Run".
Author: Kayla Tooma
Bio: Kayla Tooma is a senior majoring in English at Penn State. She hails from the great island of Long Island, NY. When she's not writing, she can be found playing piano, reading medieval literature, watching unhealthy amounts of space documentaries, and making some kind of lame pun. Her favorite genres include a variety of rock, pop, indie, and metal. Some of her favorite artists include My Chemical Romance, Lana Del Rey, Queen, MIKA, No Doubt, Lady Gaga, HIM, The Smiths, The Jane Austen Argument, The Beatles, Beirut, The Dresden Dolls, and The White Stripes. She also has a sweet spot for pop goddesses like Cher, Madonna, and Britney Spears.