Posted by Shamir Lee on 09/12 at 02:02 PM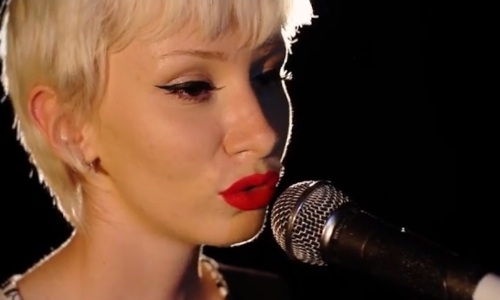 British artist Bebe Black has recently released her new single, "I'll Wait," a climactic song heavily carried by the instrumentals. This quality seems to be a theme throughout Black's work, evident in "Deathwish" and "Never Forget." Her light but strong vocals, dark fashion style mixed with albino-like physical features, and simple yet thought-provoking lyrics are all traits I admire about this artist, and I hope to see her go far, not only in her home country but across the world.
Hailing from London, Black, whose real first name is Naomi, is somewhat of a mystery. She stepped onto the scene last year with famed British dubstep producer Benga on his song, "Icon." An interview with Planet Notion reveals that she originally started with a jazz and blues sound. However, pop was the direction she wanted to go in, and soon she was recording her first album with Columbia Records. Her first two singles were released earlier this year to positive feedback. Hopefully, with the release of her album, Bury My Love, on September 9th, the positivity will continue.
It's been an interesting journey for Black. A traumatic singing performance during her school years left her thinking she'd never sing again. After aiming to start a career in the fashion world, she turned back to music, her first passion. Now, in just a matter of a few years, she's starting to live her dream, and this time I hope she's here to stay.
The video for "I'll Wait" is posted below, and here are the links to her Twitter and Facebook if you want to stay updated.
Author: Shamir Lee
Bio: Shamir Lee is a senior majoring in Advertising. She's a writer for Penn State's CRITIQUE, a student-run business magazine. Additionally, she has created ads and flyers for One Heart, an organization fighting against child sexual abuse. She's interested in looking at cats, doing ballet, exercising, and ending animal cruelty. In her free time, she enjoys watching horror movies, some of her favorites being Satoshi Kon's Perfect Blue and the 2003 remake of The Texas Chainsaw Massacre ("sorry, I just really like the cinematography"). Music is a big part of her life, as she plays piano, a little bit of guitar, and used to play saxophone. Some of her favorite musicians are Jason Becker, BUCK-TICK, Megadeth, Aivi Tran, Missing Persons, Nina Hagen, Prince, and Koji Kondo.