The opinions expressed in these blogs are solely those of the people who wrote them, and do not represent the views of WPSU or Penn State University.
Posted by Brittany Smith on 10/31 at 01:59 PM
The Saturday before last, Way Fruit Farm officially said "goodbye" to summer by launching into the fall season with the conclusion of the annual Apple Festival.
Comments (0)
Posted by Brittany Barth on 10/30 at 05:31 PM
While browsing through the Spotify Radio App, I stumbled across a gem by the name of Birdy.
Spotify was featuring her self-titled debut album, Birdy, which does not include any original songs, but covers.
Comments (0)
Posted by Mike Moynahan on 10/26 at 06:07 PM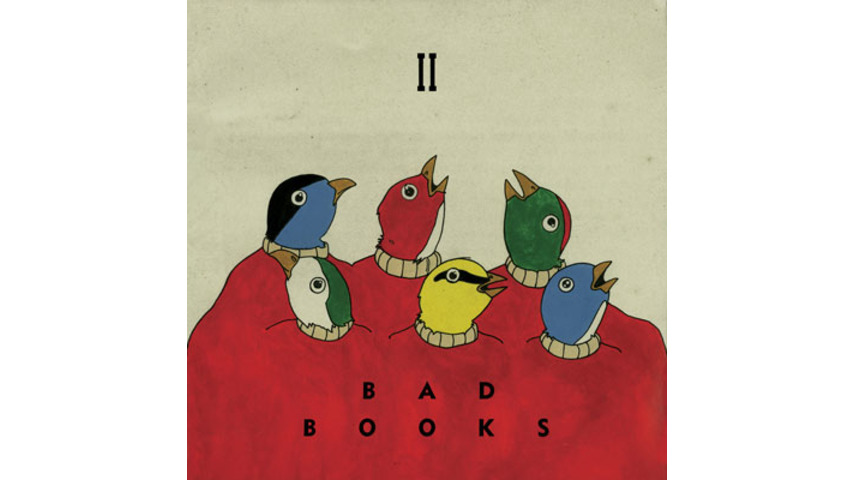 Grade: A+
Since Bad Books, the indie supergroup made up of members of Manchester Orchestra and singer/songwriter Kevin Devine, released their debut self-titled album in 2010, a lot has gone on. Manchester Orchestra released Simple Math, their third studio album in May of 2011 and Devine released his sixth studio album Between the Concrete and Clouds in September 2011. Heck, in addition to that, Manchester Orchetra's singer, Andy Hull, finished the final edition of his trilogy of solo albums under the moniker Right Away, Great Captain!. The first two albums were released in 2007 and 2008 respectively but Hull took his time with the third installment, entitled The Church of the Good Thief, and released it in June of this year. So with all this recording, along with touring, many were afraid that Bad Books first album might be a one and done operation. However, the group made it known that there would be more Bad Books and on October 9, they upheld that promise, as their second album, Bad Books: II, was released on Triple Crown Records.
Comments (0)
Posted by Brittany Barth on 10/26 at 05:44 PM
Need a new jam to get you fired up for the weekend?
Look no further than Icona Pop.
Comments (0)
Posted by Whitney on 10/26 at 02:24 PM
The live broadcast premiere of "Our Town: Clearfield" last night was embraced by all of Clearfield and beyond! In addition to hearing from viewers all along the Susquehanna, we received calls from folks in Florida, Georgia, Alaska, & California whose hearts are still in Clearfield! Thank you to each and every person who called in last night. We tried to make sure to thank everyone because you make all of this possible for your community and that's so important.
Comments (0)
Posted by Jessica Illuzzi on 10/25 at 03:31 PM
Mount Nittany Winery was a busy place last Saturday as guests enjoyed the annual Harvest Fest. The main room was packed full of people moving from one table to another, sampling and purchasing local foods and beverages.
The festival is hosted by the winery each year and features local vendors selling cheese, honey, salsa, pumpkins, and even soap. Many of the vendors in attendance said they have been unaffected by any problems with the economy.
Comments (0)
Posted by Brittany Smith on 10/23 at 11:49 AM
I've always thought the best part of fall is its' warm colors: green, red, orange, and yellow. Not only do these colors represent a changing of the leaves, but the crisp, vibrant flavors of fresh bell peppers.
The bell pepper's quirky shape is a perfectly sweet substitute for the average bowl, and can hold flavors twice as savory as its own.
Try adding a festive kick to your favorite fall dishes with these Spicy Beef Stuffed Peppers.
Comments (0)
Posted by Brittany Barth on 10/22 at 04:44 PM
A few years ago, I selected the "shuffle" option on my iPod and stumbled upon a song I had no recollection of ever adding to my music library. After my confusion subsided, intrigue set in. "What am I listening to?"
The name of the artist wasn't listed, but it showed the song title: "In Cauda Venenum."
As I listened to the song, I realized that the music I was experiencing was not only kickass, but surprising and unique. After the track concluded, I was left hungry for more of the thrilling sound I had just experienced. Who was the band responsible for the mystery track? It was none other than the Rhode Island-based indie rock band, The Dear Hunter.
Comments (0)
Posted by Jessica Illuzzi on 10/18 at 02:09 PM
Guests of the first annual Plow to Plate Harvest Festival on Wednesday, October 10th enjoyed seasonal dishes and fall-inspired decorations at Mount Nittany Winery in Centre Hall.
More than 25 vendors from the Boalsburg Farmers Market supplied produce to the region's best restaurant chefs, who prepared delicious dishes for guests to sample. The festival was organized to thank community members, customers, and vendors of the market for their support throughout the year.
Comments (0)
Posted by Brittany Barth on 10/18 at 01:53 AM
Grade: C
My attention was called to the previews for NBC's latest drama Chicago Fire for one reason: the song being featured. Something about the song was so enticing and just begging to be added to my music library. I quickly discovered what the song was and the band that wrote it.
"Radioactive" is the second single released from Imagine Dragons' debut album Night Visions. It is the first track on the album and shows so much promise for the songs that follow. However, the remaining eleven tracks just cannot match up to what "Radioactive" provides, which was something I was shocked to find out. It was hard to believe that the rest of the album wouldn't produce the same satisfaction that "Radioactive" had given me.
Comments (0)
Posted by Tony Ricci on 10/17 at 07:59 PM
The frost hit hard last week, which did a few crops in, but made others perk up a bit. Anything in the cabbage family just got sweeter.
Comments (0)
Posted by Brittany Barth on 10/15 at 04:58 PM
If you haven't heard Usher's "lead single" from his album Looking 4 Myself, do yourself a favor and immediately skip to the third track. Only then will you experience the sexiest side of Usher Raymond you have ever seen.
Comments (0)
Posted by Brittany Smith on 10/11 at 11:03 AM
Second quarter, 30 seconds until the half, and the only thing standing between you and the end zone is your hungry belly. What better way to continue this season than by combining seasonal ingredients in a way sure to spike your taste buds
If you love fall and football as much as I do, check out this simple recipe for a sweet and tangy apple coleslaw that everyone will love. Serve it cold or atop your favorite pulled pork recipe to land an automatic first down every time.
Comments (0)
Posted by Brittany Barth on 10/09 at 02:01 AM
After discovering how infatuated I became with Lana Del Rey's music, I set out to find artists similar to her.
Naturally, I looked to the Spotify Radio App to guide me in my quest (it's always been reliable in the past and once again it didn't fail me). The app introduced me to the band, Electric Guest, who has since become my new obsession.
Comments (0)
Most recent entries
Bakery focuses on gluten-free options for desserts, pasta

Thursday, September 25, 2014
By Local Food Journey in Local Food Journey

Tuesday, September 23, 2014
By Carley in

Now is the time to plant garlic

Tuesday, September 23, 2014
By Jamie Oberdick in Local Food Journey

American Graduate Day - September 27, noon-5pm

American Graduate Day - September 27, noon-5pm
Monday, September 22, 2014
By Mike D in Programming Events
Categories
Archives
Latest Photos