The opinions expressed in these blogs are solely those of the people who wrote them, and do not represent the views of WPSU or Penn State University.
Posted by Jessica Gold on 09/27 at 06:38 PM
As you may already know, Donald Glover a.k.a. Childish Gambino has been confirmed as the headliner of Penn State's Homecoming concert on October 6th. Tickets went on sale on Monday September 23rd in Heritage Hall. And great news for you… the ticket prices are reasonable: $10.99 for floor seats, $4.99 for bleacher seats and $20 for public bleacher seats. However, you are only allowed one ticket purchase with a Penn State Student ID.
Comments (0)
Posted by Jamie Oberdick on 09/27 at 09:00 AM
This weekend's local food event list is highlighted by Oktoberfests at Tussey Mountain and Millheim, a new farmers market at the Grange Fairgrounds, Gamble Mill MusicFest, and last but not least, the WPSU International Wine Festival. Quite a slate of things to do! To learn more, keep reading…
Comments (0)
Posted by Jessica Gold on 09/25 at 03:52 PM
Nothing Was the Same or "NWTS," which is actor turned rapper/singer Drake's third album, hit stores on Tuesday, September 24th. However, last Sunday, September 15th it "magically" appeared online and was available for download. According to The Hollywood Reporter, the album leaked via Twitter. All 13 songs (including singles "Started From the Bottom, "Hold on, We're Going Home," and "305 To My City") were leaked a week and a day before its release date. Collaborations with Jay-Z, songstress Jhene Aiko, Detail, Majid Jordan, Big Sean and 2 Chainz are also available on the album, and the deluxe version includes club banger, "All Me."
Comments (0)
Posted by Jamie Oberdick on 09/25 at 09:24 AM
September is harvest time in the fields, orchards, and, of course, vineyards in Central Pennsylvania. One of the area's best-known wineries, Mt. Nittany Vineyard & Winery, is gathering the grapes that make their variety of signature wines, and each year this is a time to celebrate a good harvest. With this in mind, Winery Owners Joe and Betty Carroll are holding the Winemakers Harvest Dinner Oct. 5 at the Winery.
Comments (0)
Posted by Jessica Gold on 09/24 at 01:58 PM
A-
Janelle Monae, the dancing machine who's "uniform" consists of black and white just released her second album called The Electric Lady. Monae hasn't released an album since her debut, The ArchAndroid in 2010.
The Electric Lady is a mix of 19 songs that channel R&B, Soul and Rock n' Roll sounds. Many of the songs like "Dance Apocalyptic," "Q.U.E.E.N.," "Ghetto Woman," "We Were Rock and Roll and "Give 'Em What They Love" are high-energy tracks. They either make you want to bob your head along with the beat or break out in choreography. Appearances by Solange, Erykah Badu, Cee-Lo Green, Miguel, Esperanza Spalding, Prince and Big Boi enhance the album. Some, such as Pretty Much Amazing, would say that The Lady Electric is a double album according to the track list.
Comments (0)
Posted by Shamir Lee on 09/23 at 02:35 PM
On September 18th, Solange released the video for "Lovers In The Parking Lot" from her 2012 EP True. It's been a while since I've heard a single from Solange, the last one being "Losing You" almost a year ago, and it's good to hear her releasing more of her work.
Comments (0)
Posted by James Sechrengost on 09/23 at 08:30 AM
With the closing of the recent Garlic Festival in Pocono I was reminded of the many festivals I attended in Gilroy in SoCal. Now I am a garlic lover, not to the extreme I like garlic ice cream, but I do love the pungent little relative to the onion. What you didn't know that PA had their own Garlic Festival? Check them out at http://www.poconogarlic.com/. We used to load up a van and head to the Gilroy Garlic Festival every year. You could smell the festival miles before you ever got there. Being the foodie I am I headed straight to the food booths. There was always some new and unique recipe I could pick up there.
Comments (0)
Posted by Jessica Gold on 09/20 at 03:00 PM
Looking for new albums to listen to while you're relaxing, doing homework, or working out? Well, here are four albums that will definitely have you singing along with the lyrics. These new releases range in genre, but all are well put together according to Billboard and music critics.
Comments (0)
Posted by Jamie Oberdick on 09/20 at 09:03 AM
Even this late in the season, you probably still have tomatoes in your garden, and if you're not a gardener, probably still see good-looking tomatoes at farmers markets. If you are a serious tomato-lover, you've turned them into sauce, whipped up some salsa, canned them, frozen them, made some sort of pasta, made tomato salad, etc. You may think, like I did, that you've tried just about every use for those wonderful globes of deliciousness. But, I can recommend one way to use tomatoes that is positively amazing and yes, a revelation of flavor—slow-roasting them.
Comments (0)
Posted by Shamir Lee on 09/18 at 06:18 PM
My dreams are coming true. On August 29, at Room 5 in LA, Cassie Steele gave a live performance of new music material. Five of the songs were originals, one was an Imagine Dragons cover, and the last was "Summer Nights" from her Destructo Doll album. Of course I didn't attend the show, but watching it on Youtube was close enough. The video quality wasn't that great, but the audio made up for it. With just a band in the background, her voice is in the spotlight, and she sounds amazing. It's similar to what she has done on her first two albums, which is good to hear considering that for a short time she was going down the pop road with the duo KaraMel and the single Shape Shifter.
Comments (0)
Posted by James Sechrengost on 09/18 at 10:08 AM
When I was but a wee lad…okay, who am I kidding I was never a wee lad. How about…when I was a young child my grandmother used to make pierogi by the dozens. She would make potato and cheese, sauerkraut, ones stuffed with meat, and even dessert ones. Being the ever inquisitive child I was (okay, okay, being the pain in the neck, nosy, kid that I was) I always wanted to help.
Finally, when they thought I was old enough, they put me on filing duty. I was supposed to place one heaping spoon of filling in the middle of each pierogi shell. Well, after the initial "one spoon for the shell, one for me" method I actually managed to do about two dozen pierogi. With my ever expanding stomach and boredom, the filling wasn't quite in the middle anymore but I was still working at it.
After another dozen, I came to realize this was more like work than play and didn't want to do it anymore. My grandmother made me stay and finish the job. I got the lecture about not starting something unless I was willing to finish it. I still have lesson ingrained into me.
Comments (0)
Posted by Shamir Lee on 09/16 at 02:09 PM
If you've been waiting for an 80s revival (well, musically anyway), I've found the place for you. NewRetroWave, a site established in November of 2011 dedicated "to hosting the best in 80s revival music of today," doesn't simply relive the 80s, it aims to promote artists who create and produce original works inspired by the era. The site has its own radio, which plays tracks submitted by current artists in the New Retro Wave scene. "New Retro Wave" isn't an official term for this kind of music, but with its rise in popularity, noticeable in films like 2011's Drive, this label might stick. Artists such as Power Glove, Bourgeoisie, and Noir Deco are featured, and each month a different artist gets the spotlight with an accompanying interview. This month it's Josep Prat Sorolla. Updates and news regarding artists and new music are posted on the blog. Some of the music can even be legally downloaded for free.
Comments (0)
Posted by James Eisenstein on 09/16 at 09:32 AM
Working on a farm ties you intimately to the earth's rhythms like nothing else. Professors begin the new academic year in the fall, then start all over again in January. But what organic vegetable growers do changes dramatically with the seasons.
Usually, farmers are too busy to reflect on much beyond which 20 of the 30 essential tasks that need to be done right away they can do. But I have the luxury of being (supposedly) retired, working only half time, and this allows me to contemplate the passing of the seasons. So as we enter the fall, this is an appropriate time to review this summer, mostly in pictures.
Comments (0)
Posted by Jamie Oberdick on 09/13 at 09:44 AM
A quiet local food weekend last Saturday and Sunday, but not so this weekend. Some very cool events to check out tomorrow and Sunday. On a bit different note, you can make your Penn State tailgate or party a local food event by offering up some local food like Hogs Galore bratwursts, drinks mixed with Tait Farm shrub, an apple pie made with Harner Farm apples, etc. Anyway, onto the scheduled events for this week…
Comments (0)
Posted by Shamir Lee on 09/12 at 02:02 PM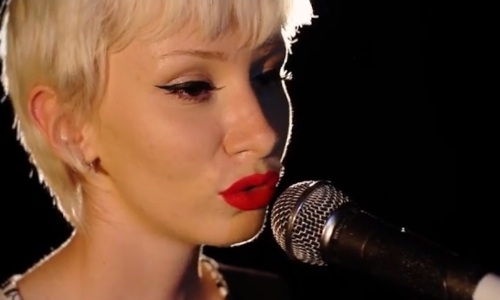 British artist Bebe Black has recently released her new single, "I'll Wait," a climactic song heavily carried by the instrumentals. This quality seems to be a theme throughout Black's work, evident in "Deathwish" and "Never Forget." Her light but strong vocals, dark fashion style mixed with albino-like physical features, and simple yet thought-provoking lyrics are all traits I admire about this artist, and I hope to see her go far, not only in her home country but across the world.
Hailing from London, Black, whose real first name is Naomi, is somewhat of a mystery. She stepped onto the scene last year with famed British dubstep producer Benga on his song, "Icon." An interview with Planet Notion reveals that she originally started with a jazz and blues sound. However, pop was the direction she wanted to go in, and soon she was recording her first album with Columbia Records. Her first two singles were released earlier this year to positive feedback. Hopefully, with the release of her album, Bury My Love, on September 9th, the positivity will continue.
Comments (0)
Most recent entries
Thursday, September 18, 2014
By Local Food Journey in Local Food Journey
Tuesday, September 16, 2014
By Mike D in Events
Tuesday, September 16, 2014
By Local Food Journey in Local Food Journey
Friday, September 12, 2014
By Jamie Oberdick in Local Food Journey
Categories
Archives
Latest Photos