Blogs

The opinions expressed in these blogs are solely those of the people who wrote them, and do not represent the views of WPSU or Penn State University.
Posted by Mike Moynahan on 10/26 at 05:07 PM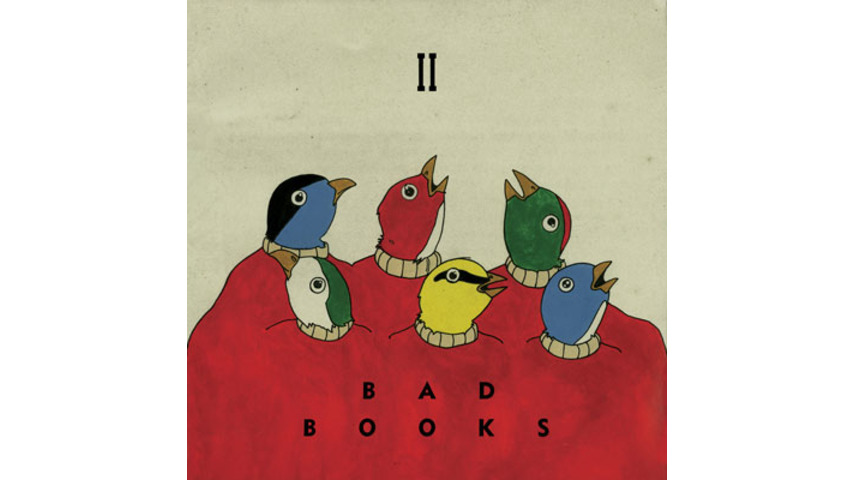 Grade: A+
Since Bad Books, the indie supergroup made up of members of Manchester Orchestra and singer/songwriter Kevin Devine, released their debut self-titled album in 2010, a lot has gone on. Manchester Orchestra released Simple Math, their third studio album in May of 2011 and Devine released his sixth studio album Between the Concrete and Clouds in September 2011. Heck, in addition to that, Manchester Orchetra's singer, Andy Hull, finished the final edition of his trilogy of solo albums under the moniker Right Away, Great Captain!. The first two albums were released in 2007 and 2008 respectively but Hull took his time with the third installment, entitled The Church of the Good Thief, and released it in June of this year. So with all this recording, along with touring, many were afraid that Bad Books first album might be a one and done operation. However, the group made it known that there would be more Bad Books and on October 9, they upheld that promise, as their second album, Bad Books: II, was released on Triple Crown Records.
And, oh, what an album it is. It kicks off with "The After Party", a song that sets a bit of the foundation for some of the themes that will follow. Hull and Devine, who switch between lead vocals and backing vocals depending on the track, alternate singing, "oh, I hate to be alone.", "oh, I need to be alone.", and "it's so good to be alone," showing the movement towards accepting the fact that loneliness needs to be part of life at times in order to make time with friends and family more meaningful.
The album's second track, "No Reward", begins with polished guitar and fantastic lead vocals from Devine. Devine, who has stated before he has been heavily influenced by the late, great Elliott Smith, does Smith proud on this track. Devine, who in my opinion has always been the only contemporary artist who even comes close to relaying the same skills in storytelling and emotion as Smith did, anchors this track with soaring instrumentals and backing vocals of "Ooh"s and "Aahh"s driving it forward. It's a song that reminds me of one that could have come off of Smith's Figure 8 album and that's a very good thing. The theme of loneliness, one Smith often sang about as well, carries over from "The After Party" as Devine sings, "It's such a lonely life. No reward" numerous times on the standout track.
The third track on II is "Forest Whitaker". Now, I've already discussed this song at length here so I don't want to repeat myself too much. But I will say it's one of the catchiest Indie songs I have heard in quite some time despite being another song about lost love, and a former partner finding a more rewarding life with someone who isn't you. It would almost be disheartening if it weren't for the contagious chorus of whistles sprinkled about the track with perfect precision.
"It Never Stops" is the fourth track, and another where Kevin Devine takes lead vocals. It begins slowly, with Devine reflecting, "God hid in amphetamine waves/Margaritas and disposable days." He continues, "folded arms and I felt your heart hum." And, as he says "hum" the band kicks in with guitars and a drumbeat that compliment the lyrics nicely as they prove to be the pulse of the track. "It Never Stops" is a fantastic song, just as the three songs before it. And, once again, the idea of a love that just doesn't work out for one reason or another is reflected upon.
The rest of the album maintains the caliber exhibited by the first few songs. "Friendly Advice" serves as the middle track on the album and contains perhaps one of the most visual examples of the album as Hull sings, "I spent the entire last month thinking of ways to scalp my head, impress you with the way I speak". If that doesn't show someone you care about them then I don't know what does. "42" and "Lost Creek" are two tracks that sound as though they would fit nicely in Hull's arrangement on his solo albums. They are slow and thought provoking, beautifully discussing family issues and substance abuse. Hull sings lines like, "It's a shame Jessica never got clean. You know, last time I saw her was honestly awful for me." and "You and your dad, what a tragic mishap, when a man loves a drink more than blood. And I pace my room for an hour or two every day since 2001. And I think that I talk too much." These two songs are really the only glimpse into the secret Hull, Devine and the rest of Bad Books are able to keep so well. They are able to mask sad lyrics about dark situations with beautiful melodies and musical arrangements. The listener appreciates tracks like "42" and "Lost Creek" because they feel as though Hull is being honest with them, trusting them.
In a word, Bad Books II is brilliant. It would be one thing if it were put out by a band who had been together for quite a long time but this is coming from a collaboration of men who hadn't even met each other before 2007. To think this is only their second album only makes you more excited for the future. Because, the fact of the matter is, both Manchester Orchestra and Kevin Devine are amazing as artists on their own. But somehow, they make each other even better. Maybe it's a mutual respect. Perhaps a desire to impress each other. Or it might even be the expectations that because this band formed from two separate acts, it has to deliver. Whatever it is, I'm glad Bad Books formed, and I'm so very happy for this album. Listen to it and love it like I do.
Pick it up from iTunes or straight from the band here.
Author: Mike Moynahan
Bio: Mike Moynahan is a senior majoring in English and minoring in Media Studies. In addition to writing, he co-hosts the Indie 500 show every Wednesday at 7PM on The LION 90.7fm. He enjoys watching T.V. (especially Breaking Bad), digging deep into the bowels of Netflix for instant viewing when he's bored, reading and napping in his free time. No artists will ever be greater than the Beatles or Elliott Smith but he commends the rest of the pack for trying their best. Some of his current favorites include The Gaslight Anthem, The Weakerthans, Death Cab for Cutie, The Front Bottoms, Titus Andronicus, Arcade Fire, Built to Spill, Manchester Orchestra, Kevin Devine, The Hold Steady, Los Campesinos!, Bon Iver, and Coldplay. Especially Coldplay.