Blogs

The opinions expressed in these blogs are solely those of the people who wrote them, and do not represent the views of WPSU or Penn State University.
Posted by Rachel Garman on 05/30 at 11:50 AM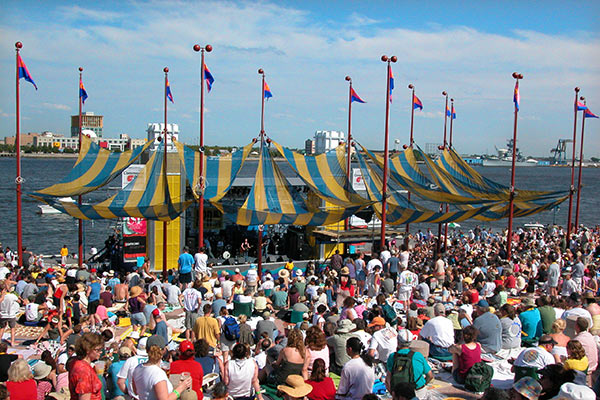 With the summer months rapidly gaining momentum, what better way to enjoy the warm nights than with live music? Although some of us may be busily earning money to pay off those college debts, hard work deserves a reward every now and then. With new releases from Beach House, Hot Chip, Best Coast, Kimbra, The Tallest Man on Earth, and Norah Jones (just to name a few), this summer is sure to be filled with plenty of new anthems and notable shows to catch. Here's a sampling of a few tours that will be moving through the Pennsylvania area during the upcoming months.
Foster the People with Tokyo Police Club & Kimbra
When & Where: 06/14/12 @ The Mann Center, Philadelphia, PA
Cost: $36.50
Call it What You Want-Foster the People
There's no better way to start things off than with these three truly talented artists. Basking in its recent successes of this past year, Foster the People is bound to deliver a fun and lively performance to ring in the summer. The supporting acts, Tokyo Police Club and Kimbra, are both sure to open the show with toe-tapping indie rock and soulful beats. Coincidentally, the song "Warrior" by Kimbra, off of the album Vows, features Foster the People front man, Mark Foster. The combination of all three artists makes for the perfect show to celebrate the start of summer.
When & Where: 06/15/12 @ Union Transfer, Philadelphia, PA and 07/20/12 @ Club Café, Pittsburgh, PA
Cost: $15 (Both Shows)
Bad Luck-Langhorne Slim
Langhorne Slim, originally from my neck of the woods, near Langhorne, PA, has been creating folky-blues music since the early 2000's. Set to release his fourth full-length album The Way We Move on June 5th, Langhorne Slim is hitting some smaller clubs in the area before heading west on his tour. Speaking from experience, Union Transfer is a rising star in Philadelphia venues, and its down-to-earth appeal is a perfect setting for an act such as Langhorne Slim & The Law. They also offer a post-show happy hour in their bar after every show, so make sure to bring a valid ID if you're so inclined!
When & Where: 06/18/12 @ Stage AE, Pittsburgh, PA and
06/22/12 @ River Stage, Philadelphia, PA
Cost: $33 (Pittsburgh); $47 (Philadelphia)
That Power-Childish Gambino
Childish Gambino, also known as Donald Glover, will be touring this summer in support of his first official album, Camp. Glover is best known for his character Troy on NBC's Community as well as for his stand-up comedy. The liveliness and lyrical creativity of Glover's raps help to draw in a largely diverse fan base. Always the entertainer, both Childish Gambino shows will be great for a group of friends on a summer night.
When & Where: 06/28/12 @ The Mann Center, Philadelphia, PA
Cost: $44.90-76.75
Happy Pills-Norah Jones
Norah Jones is no stranger to the music scene. Touring in support of her fifth album, Little Broken Hearts, Jones will be making a stop to The Mann Center in Philadelphia this summer. Perfect for an upscale date night, The Mann Center offers a buffet before the show at its own restaurant, Crescendo, for $49.50 plus tax per person. Reservations are required, so call ahead. Why not make a night of it and enjoy the sultry tunes of Norah Jones on a warm night in the city?

Coldplay with Robyn & Wolf Gang
When & Where: 07/05/12 and 07/06/12 @ The Wells Fargo Center, Philadelphia PA
Cost: $29.50-96.50
Hurts Like Heaven-Coldplay
Due to popular demand, not only is Coldplay performing two consecutive dates at The Wells Fargo Center, but the band is also modifying their stage into 360-degrees in order to allow for more seating. The large arena has ample space for Coldplay to perform with all the grandeur its shows so often encompass. The supporting acts, Robyn and Wolf Gang, will supply the large crowds with hefty doses of Electropop and beats that will certainly warm the crowd up for the main event.
When & Where: 07/21/12 @ The Electric Factory, Philadelphia, PA
Cost: $29.50
How Do You Do?-Hot Chip
Hot Chip's funky electronic music not only produces head-nodding and toe-tapping in its listeners, but more accurately the overwhelming urge to dance along. Preparing to release its fourth album, In Our Heads, on June 12th, Hot Chip will be embarking on a world tour this summer. The Electric Factory is a perfect venue to fully enjoy the energy of Hot Chip's repertoire. If you would rather take advantage of the venue's bar rather than dancing on the floor, head upstairs and enjoy a view of the action from the balcony.
When & Where: 07/30/12 @ Union Transfer, Philadelphia, PA
Cost: $25
1904-The Tallest Man on Earth
The Tallest Man on Earth, also known as Kristian Matsson, is set to release his third studio album, There's No Leaving Now, on June 12th, 2012. His folky music will provide for an enjoyable and relaxing show as the summer begins its descent into August. The bluesy atmosphere of Union Transfer is a suitable venue for Matsson's rasping voice and woodsy guitar picking.
When & Where: 08/01/12 @ The Electric Factory, Philadelphia, PA
Cost: $40
Reunion-M83
It's no surprise that many of M83's upcoming shows are selling out fast, so catch them while you can. Much like Hot Chip, the electronic pulses and ambient noise of M83 generate the need for some sort of movement, and The Electric Factory has just the space to do so. Gaining recent attention for the album Hurry Up We're Dreaming, M83 has secured a radio hit with the song "Midnight City." If you are in the area or are looking for a road trip, this is definitely a band to catch.
When & Where: 08/02/12 @ River Stage, Philadelphia, PA
Cost: $35.50
Some Nights-Fun.
In case you weren't able to catch Fun. when they visited State College this past spring, here is a chance to round out your summer with one of the breakthrough bands of this past year. Unfortunately, the band's Pittsburgh show has already sold out, so get tickets in Philly while you can. Fun. packs so much energy into its live shows that you are sure to be singing and dancing along from the start. The outside venue coupled with the bouncy pop of Fun. on a humid August night is the perfect way to celebrate the last few weeks of freedom before the return to school begins.
Author: Rachel Garman
Bio: Rachel Garman is a sophomore studying Journalism and English at Penn State. She enjoys writing, reading, photography, discussing the characters of Mad Men, and tasting menus. Her favorite genres include indie, folk, alternative rock, and hip-hop. Some of her favorite artists are David Bowie, Tom Petty, Jack's Mannequin, Childish Gambino, Dead Man's Bones, and Bon Iver.